Ayurveda Day Celebration at ICCR Center, Mexico Living in Tune – Exploring Prakruti
148
148 people viewed this event.
Namaste, dear friends!
We are thrilled to invite you to a blissful celebration of Ayurveda Day at the ICCR Center in Mexico, in collaboration with the esteemed Swasti Yoga Center. Embrace the ancient wisdom of Ayurveda and join us on a journey to harmonize your mind, body, and soul. On this auspicious occasion, we have the honor of hosting two eminent Ayurvedic practitioners, Dr. Vikas Chothe and Dr. Shwetamabari Chothe, who will share their profound insights on "Living in Tune: Exploring Prakruti."
🍃 Event Details:
Date: November 8, 2023
Time: 12:00 PM (CMT) CDMX
Venue: ICCR Center, Mexico
Collaborator: Swasti Yoga Center
Ayurveda, the science of life, offers a holistic approach to health and well-being. It emphasizes the importance of living in harmony with nature and understanding our unique constitution, known as Prakruti. Prakruti, or one's inherent nature, plays a vital role in determining our physical, mental, and emotional tendencies. By exploring and understanding our Prakruti, we can make informed lifestyle choices that promote balance and vitality.
Event Highlights:
Enlightening Talks: Dr. Vikas Chothe and Dr. Shwetamabari Chothe, esteemed Ayurvedic practitioners, will delve into the depths of Ayurveda, unraveling the mysteries of Prakruti and guiding us on the path to holistic well-being.
Interactive Workshops: Engage in interactive sessions and workshops that will empower you with practical Ayurvedic techniques and lifestyle practices tailored to your unique Prakruti.
Yoga and Meditation: Experience the transformative power of yoga and meditation sessions conducted by experienced instructors. Immerse yourself in the serenity of these ancient practices and discover a deeper connection with your inner self.
Ayurvedic Wellness Fair: Explore a wellness fair featuring Ayurvedic products, organic herbs, and holistic therapies and eLaunch of Tastes of Maharashtra in Spanish. Connect with knowledgeable practitioners and discover natural remedies for a healthier life.
Cultural Delights: Indulge in the rich tapestry of Indian culture with traditional music, dance performances, and delectable Ayurvedic cuisine. Immerse yourself in the vibrant colors and flavors of India.
 Join Us in Celebrating Ayurveda Day:
This Ayurveda Day celebration promises to be an enriching and transformative experience, offering you valuable insights into the ancient science of Ayurveda. Come, be a part of this soul-nourishing event, and take home the wisdom to lead a balanced and harmonious life.
Let us celebrate Ayurveda Day together, embracing the essence of Prakruti and honoring the gift of holistic well-being. Mark your calendars for November 8, 2023, at 12:00 PM (CMT) CDMX, invite your friends and family, and join us for a day filled with knowledge, inspiration, and rejuvenation.
See you there, in the spirit of wellness and unity!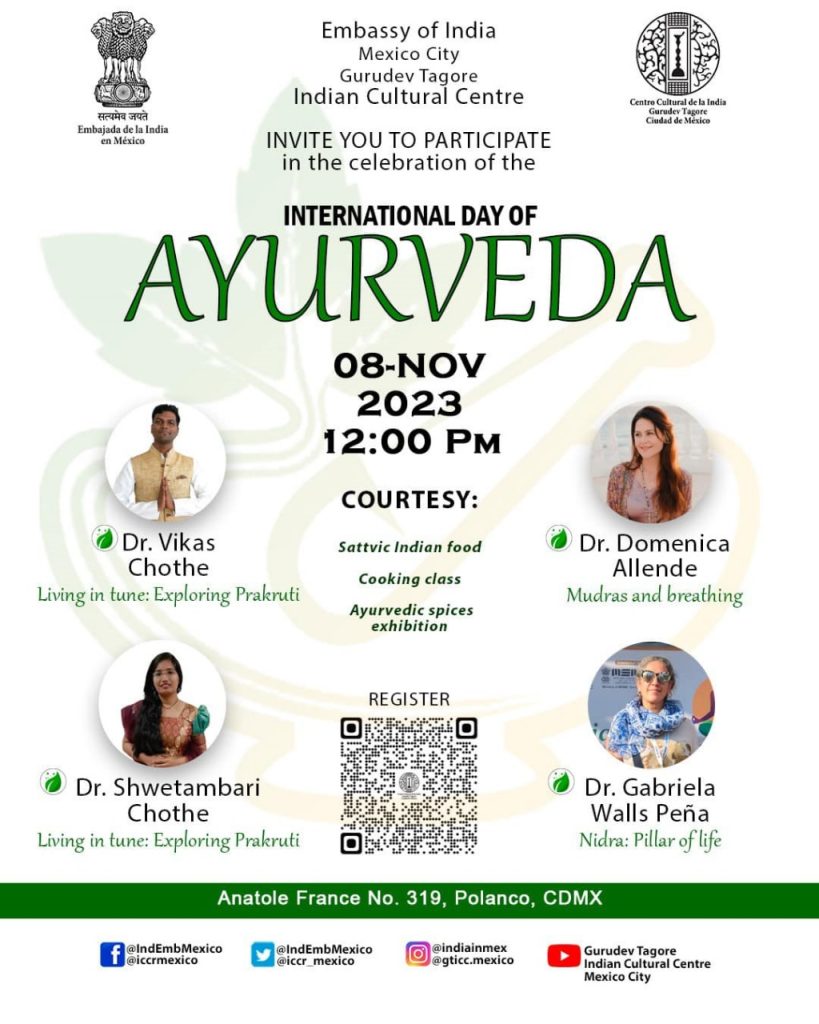 Spanish –